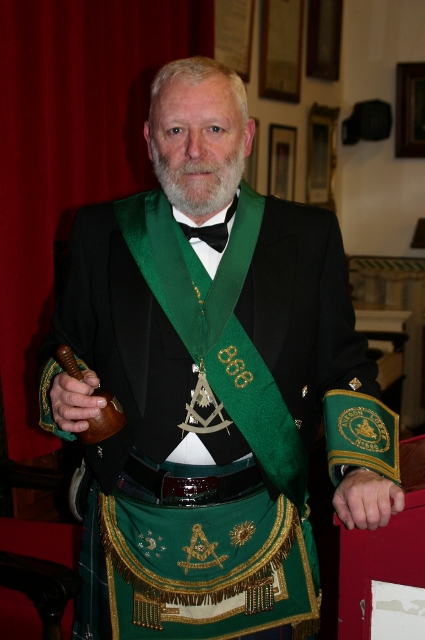 PM Bro Iain Duxbury.
     Iain was initiated into Lodge Averon 866  March 1977 and served as master  from  1996 to 1998. He is also a member of various other orders including RA (1978),KT(1991) and Conclave(1989).  He is still very active to this day after 35 years service and currently serves as Bro Treasurer.  He is also involved in our charity and fundrasing activity's contributing and actively helping to raise funds for his community where he grew up.
Iain was Master for the Lodge Averon 866 Centenary celebrations and oversaw all the activity's for the centenary year, which proved to be a very busy and successful tenure.
Ian has been a native to the town of Alness all his life leaving only for his naval service as a diver. He was heavily involved in munitions recovery and clearance. In fact Iain received a Commander -in -Chiefs Commendation in 1969 for recovering missiles from Cardigan Bay which should have self destructed, making the whole operation very dangerous indeed.  Iain also served with special forces during his term and even found himself in the news when he and his diving team, whilst on a break after clearing the Benghaze waters of munitions, they were diving off Sabrata for pleasure, when they discovered 17th century Maltese ship full of hundreds of pieces of pottery in superb condition. these were all recovered and returned to there rightful owners.
Iain has kindly supplied us with some photos.
He is also still has a keen interest in boats and builds some very detailed models from scratch.. See some of the photos below. If you click on the photo you can see a larger image.
Loading Images